Prevailing
Due to Trevor Stubley Hon RP, RBA, RSW, RWS's death in 2010, the Trevor Stubley Gallery building will be sold in an auction, taking place on May 28th 2013.
Click here (PDF) or here for the details...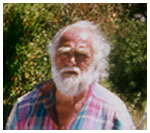 (1932 – 2010, aged 77)
Thank you for visiting this site. The online Trevor Stubley Gallery is here to let you view a range of work by Trevor Stubley. Born in Leeds, in the United Kingdom in 1932, Stubley has achieved a great deal in the art world. He has completed over 500 commissioned portraits, and illustrated around 400 children's books. Stubley has painted throughout Europe, won many awards and held countless exhibitions.
Stubley portraits were commissioned as drawings, pastels or oils on canvas. Oils and pastels capture colouring and complexion most accurately, whilst drawings mainly concentrate on the structure of the head. Portraits had been painted from life. For more information about Trevor Stubley visit the Profile page.
Sitters have included members of the Royal Family, distinguished academics and politicians, and people from the armed forces, commerce, medicine and the arts.
To get around the site, click the buttons on the menu at the side of each page. By clicking on each picture in a group, you will be able to see a larger view and detailed description in a new window.
Press Release (February 2004)
Trevor Stubley Hon RP, RBA, RSW, RWS
Trevor Stubley held career-long retrospective exhibition at the North Light Gallery, Armitage Bridge, Huddersfield HD9 7NR. Tel: 01484 340003 in 2004.
A graduate of Edinburgh College of Art, and winner of the Andrew Grant Major Travelling Scholarship in 1954, Stubley is a prolific artist who has illustrated over 400 children's books and completed about 500 portrait commissions, including a portrait of H.M. Queen Elizabeth II for the Institution of Electrical Engineers in 1986. An inveterate traveller since student days, Stubley has painted innumerable watercolour landscapes, working en plein air in ten different countries over a period of twenty years.
The North Light Gallery is a magnificent conversion of three large spinning sheds, in a former textile mill owned by the Brooke family, to form a spacious gallery beautifully lit by natural light.